How to make your own face mask? Guide on Homemade face masks…
You can find a variety of mask designs online, but here is a simple yet promising one that comes from a recent study where T-shirts and pillowcases were made into a mask using the design. The mask made using the design might act as a barrier against COVID-19, or at least will help limit the spread by a person with symptoms, according to the study's authors. We have no data on COVID-19, but it's not unreasonable to assume similarity. Know how to make homemade face masks…

Please note: Researchers also suggested that wearing a face mask will only offer LIMITED protection. It will NOT give you complete protection; and therefore, additional preventative measures should be adapted such as washing hands frequently and practicing social distancing as much as possible.
Supplies:
The cutout of mask template above (you should adjust the size based on individual face measurements).
Two washed 100% cotton T-shirts (or any tightly-woven, but breathable fabric) in different colors. Using two colors will help you remember which side of the mask is facing outwards (contaminated) and which is facing inwards (non-contaminated).
Scissors
Pen or marker
1.10 meters of flat elastic
Needle and thread (or sewing machine)
Important points to remember:
Always wear the same side of the mask facing outwards.
Frequently wash the mask using hot water and detergent. Dry in a hot setting.
To remove the mask, take off the straps from the back of your head and pulling it forward.
Wash your hands using soap and water, before and after touching your mask.
Step-by-step instructions on how to homemade face masks:
Place the template on a single layer of the T-shirt. Using a pen, trace and cut around the rectangle. Repeat the action with the second T-shirt.
Place the two rectangles on top of each other and stitch them together, using a needle and thread. Let's call it as seam A, as indicated on the template above.
You now have a rectangle that is stitched at both ends, forming a loop. Turn the loop inside out and iron the seams flat.
Stitch the fabric together at both ends (indicated as Seam B in the template above). This will create two "tubes" at both ends of the mask.
Cut the elastic in half, creating two lengths of approximately 55 centimeters each. The idea is that each elastic should be long enough to go around your head, from the bridge of your nose to the back of your head.
Tie a loose knot at one end of the elastic to help feed it through the tube. Repeat this step for the other tube.
To create the pleats, fold the fabric as indicated on the template (unevenly-dashed lines backward, evenly-dashed lines forward).
Iron the pleats flat and stitch both sides, as indicated by Seam C.
Fit the mask so that it sits on the bridge of your nose and under your chin. Hold the elastic at the back of your head at a comfortable length so that it stays on. Mark the correct length and stitch the ends of the elastic to finish the mask.
Other options if you can't sew.
Instead of sewing the fabric together, you can use fabric glue and an iron. Use the iron to fuse the fabric and glue together. Again using the iron, create pleats in the fabric for a thicker mask. If you don't have any of those materials, you can use a scarf and a couple of hair ties or rubber bands to quickly make a face-covering.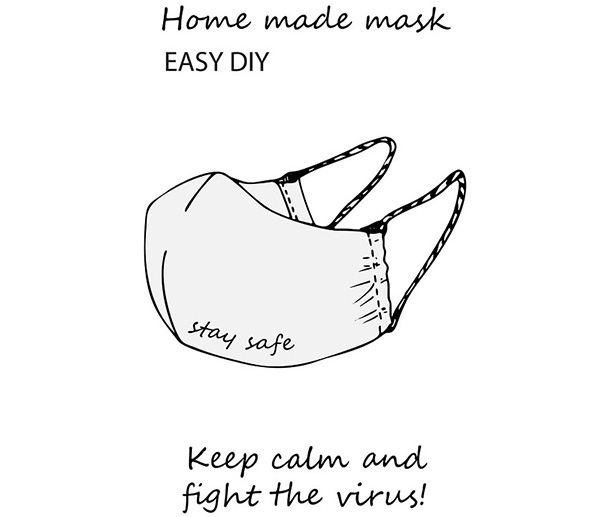 How homemade face masks can help?
Most of the homemade face masks available online are intended to block out large particles such as dust, pollution from automobiles, factories and ash and allergens such as pollen.
Most non-N95 face masks or coverings may not be able to block the smallest particles, but there are some benefits to wearing one while taking a few precautions.
It MAY block large particles ejected while sneezing and coughing.
It MIGHT offer limited protection to others if you are infected but are otherwise asymptomatic.
Could encourage more watchful behavior in you when you are in public, including avoiding touching your face, mouth, nose and eyes.
Most people have the basic materials to make a mask right now. if you don't have a mask available and need it for personal use, it's time to start making one at home.
Remember, we are in this together.
Making a mask at home can save existing stock for healthcare professionals as manufacturers ramp up production. If you're healthy and have unused commercial or medical-grade masks lying around at home, consider donating them to the local hospitals nearby. Let's start viewing mask-wearing as an act of solidarity and make it a norm until this pandemic is over.
Article source: Vivant